UniSender integration with Joomla
UniSender integration module for Joomla allows to add a website signup form and easily transfer all registered users to UniSender to arrange emailing campaign.
Transferring users to UniSender
In order to transfer the users registered on your website to UniSender, enter the UniSender module settings, indicate user transfer parameters on the right side and press the Import button.

All the contacts from the specified group will be transferred to UniSender; you will also be offered to open the list, activate it and create an emailing campaign.
Adding signup form
You can create and add a signup form by means of the same UniSender module in the block located below. A form consisting of two fields — the future subscriber's e-mail address and name — will be suggested by default. You may add any fields, swap them, or change HTML code.
All users who signed up using this form will be automatically added to your UniSender campaign list.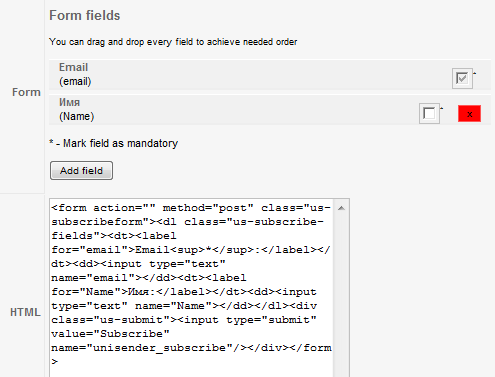 Setup
Download and install the plugin module by clicking on a link below.
Correct plugin performance requires curl installation (however it is usually pre-installed on the hosting service).